How to translate emails in Gmail on iPhone or iPad
Working with languages on the go is a necessity for travelers, businesspeople, students, and multi-linguists of all kinds. It can be difficult to know what tools to use on mobile that translate fast and accurately while respecting your privacy and not taking up too much space on your device.
If you're using Gmail on iPhone or iPad, this short guide will tell you how to translate the contents of any email. You'll soon be able to read any message from anyone in any language!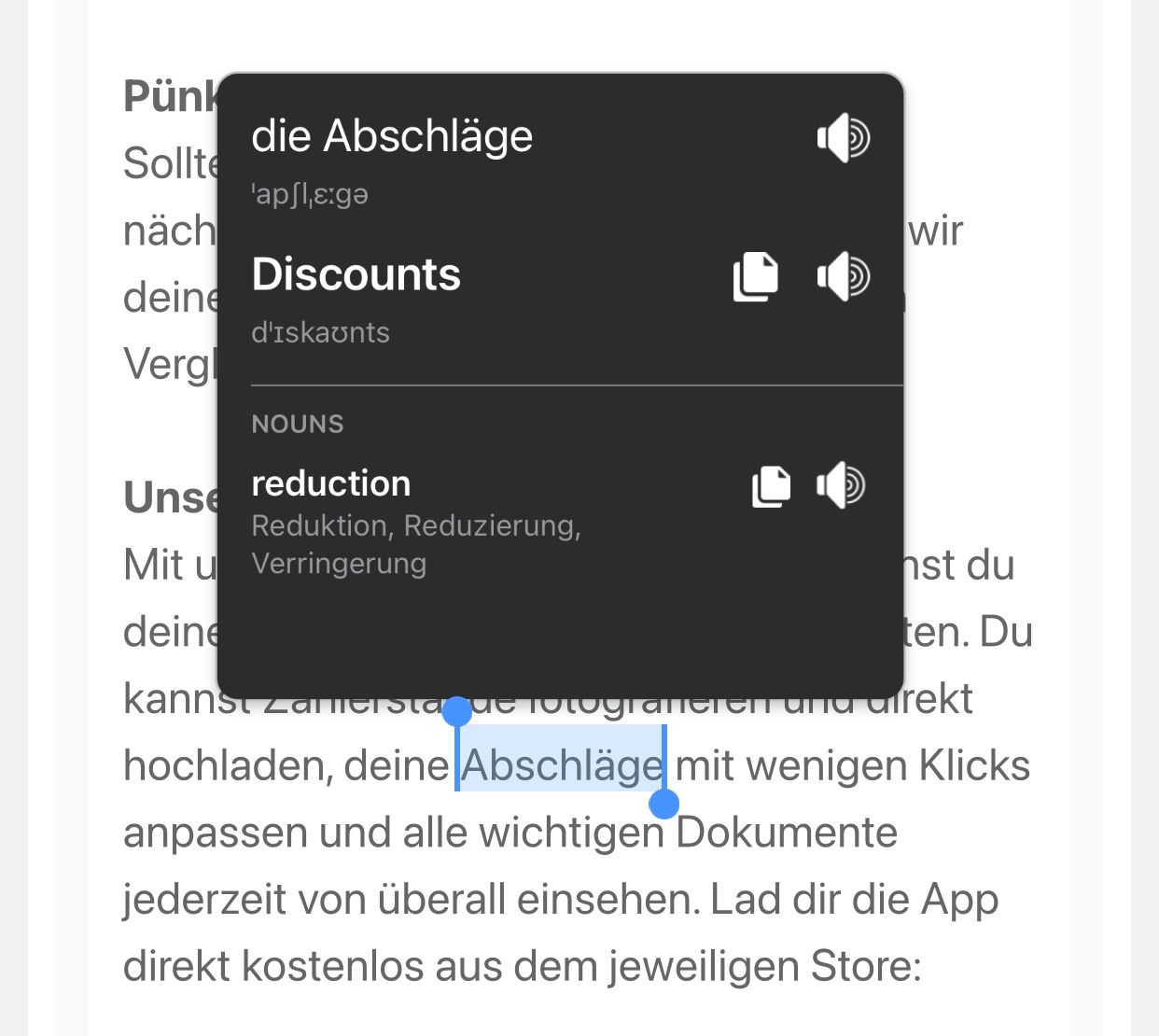 Step one: Get a translator
There are many translator app options on the App Store, but very few of them translate text at its source. Most translators like Google Translate or Apple Translate require you to copy text in an email, navigate to the translation app, paste the text, and get the result—then, if you want to reply, you have to translate in the app and do the reverse process to copy the text out and into your email app.
To cut down all of these steps and translate from right within Gmail, try Mate Translate. Unlike other translator apps, Mate doesn't require you to leave your current task to translate—it's built to translate right there where you are so you can stay in your workflow.
Step two: Open an email in Gmail
Now that you have a translator handy, open an email you'd like to translate. Don't bother searching for one in a foreign language because we can translate from your native language to any other language as a test.
If you're using something like Google Translate, you can copy text from the email and go into the app to translate and then copy it back out. This is quite a hassle and distracts you from productively working through your Gmail inbox.
If you got Mate, continue on to the next step to find out how fast and easy it is to translate without leaving the Gmail app on your iPhone or iPad.
Step three: Translate right in Gmail with Mate
These steps are super simple. Once you translate successfully the first time, you'll have no problem translating any email you want to in the future.
Highlight the text you want to translate by holding your finger on it and dragging the dots at either end to hone in on your selection.
Click "Share..." in the popup.
Click "Translate with Mate".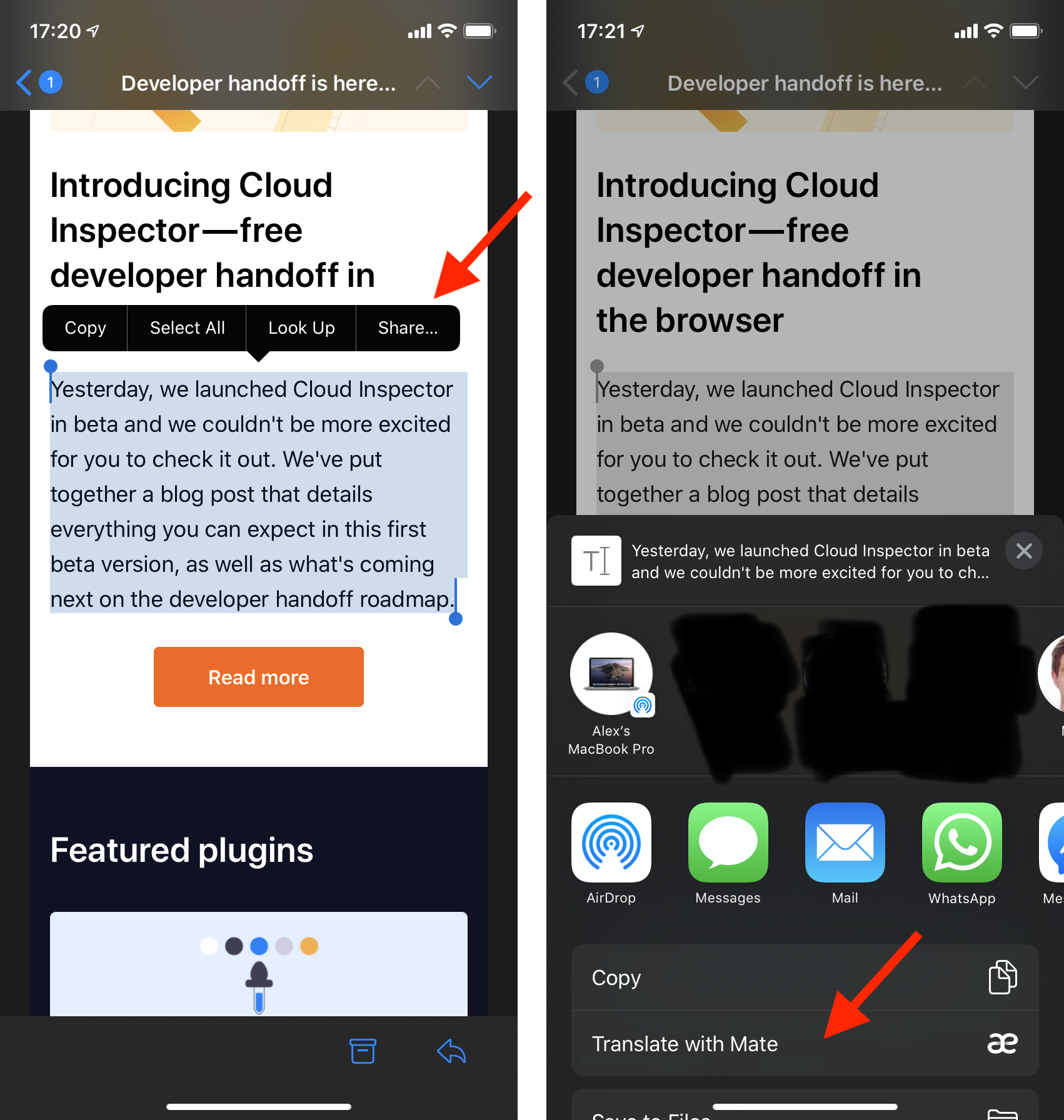 Note that if the 'Translate with Mate' action doesn't appear on the top like on our screenshot, scroll to the very bottom, tap Edit Actions, find Mate and add it to Favorites.

Brilliant! That's it. In the Mate popup, you'll be able to choose from 100+ languages to translate to and from and then paste the result into your email, all without leaving the Gmail app.
This should save you little bits of time every day that will add up to lots of time saved so you can reclaim your days for more important work or leisure. Maybe you'll even get better sleep without wasting so much time jumping between tools.
Other translation secrets
Using Mate elsewhere
Mate is the best option for translating directly in Gmail, but the usefulness does not end there. Now that you know how to make the Mate popup magically appear, you can try it in other apps too, like Safari.
If you're feeling extra adventurous, you can even translate subtitles in Netflix to learn a language while you're entertained!
Protecting your privacy
While it may be tempting to stick with another translator you're used to, keep your privacy in mind. Free translators turn you into the product by selling your data to advertisers and other third parties.
Mate has a strong stance on privacy—you can read about it in plain, easy to understand language. Why is this important? Here's an example:
iTranslate, another popular language app, has a 7000 word policy filled with legalese and complex jargon.
Mate Translate has a 700 word policy that's ultra-clear and written for customers.
Mate's privacy manifesto is 10x shorter and 100x more understandable.